With all the boats through the Caledonian Canal, they're on passage down the north east coast of Scotland along with the four who sailed 'over the top' and have 'turned the third corner'. The next 'Party Port', hosted by the Scotland Area of the OGA, is on 15 – 16 July on the River Tay Estuary with events in Dundee and Broughty Ferry.
On 7 July 'Hilda' and 'Susan J' arrived in Whitehills, near Banff after sailing in company from Lossiemouth. The Whitehills Harbour Trust was established in 1895 to build and manage the Harbour which is still owned by the villagers. Until the decline of the fishing industry in the 1990s, Whitehills was a successful commercial fishing port. In 1990 the Trust agreed to develop it as a Marina for leisure visitors.
'Bonita' has already arrived in the River Tay estuary, having sailed in company with 'Step Back in Time' from Peterhead calling at Stonehaven and Arbroath. She has taken a berth at Tayport Marina on the opposite bank of the River Tay from Dundee. She'll wait there for new crew to arrive and is in good time for the 'gathering'. 'Swift II', 'Windbreker' and 'Onward of Ito' have sailed to Stonehaven, also hoping to reach Dundee in good time for the party.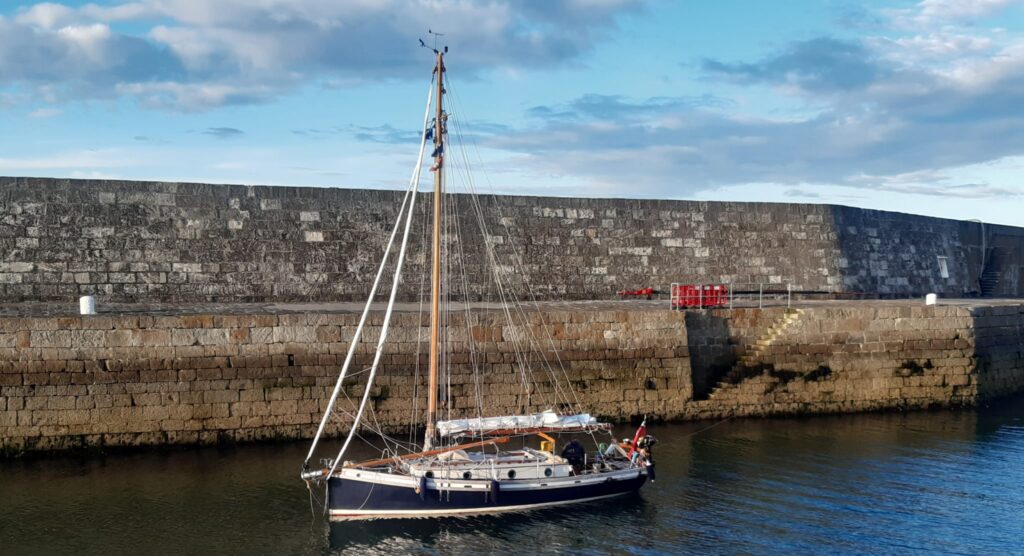 'Cygnet of London' and 'Step Back in Time' have crossed the border. They're sailing south along the north east coasts of England. 'Cygnet' is spending the weekend in Hartlepool at the Tall Ships Festival, marvelling at the size of some of the boats.
Meanwhile, down in the south west of England, 'Molly Cobbler' has been stuck in the Kennet & Avon Canal for a week. Single-handed skipper Mary is determined to try to make up lost time in order to get to the OGA60 Jubilee Party in Suffolk at the beginning of August. SW OGA member caught up with her and notes:
"Mary Gibbs made great progress along the Kennet and Avon Canal arriving at Pewsey (circa halfway between Bristol and the Thames at Reading) on Wednesday 28 June. Unfortunately, she and 'Molly Cobbler' are still there! A damaged lock gate has halted further progress. The lock gate should be operable again by 7 July and Mary hopes to resume her cross-country passage on Saturday morning. She is still hopeful, barring further unexpected delays, of making it to Levington in time to join the OGA 60 celebrations."

Keith McIlwain, OGA South West England