The Crinan Canal, described as 'the most beautiful shortcut in the world', crosses the narrow strip of land at Tarbert, Argyll & Bute at the northern end of the Kintyre peninsula. Did you ever arrange to meet someone at Tarbert in Scotland, and find there's more than one? In this post we take a look at the Gaelic origins of the town's name, bring a slideshow and commentary of OGA50 Round Britain Challenge boats passing through the Canal in 2013 and take a brief look at some facts and figures.
In Scots or Irish Gaelic, 'an tairbeart' translates to 'the isthmus' in English today but it derives from 'tar', across and 'ber' to carry. So seeking the origins of a modern-day 'Tarbert', it's a place where boats were carried over a narrow strip of land. Sailors in the west of Scotland may find many examples as they make passage along the coast and amongst the Western Isles:
Tarbert, Outer Hebrides, ferry port on the Isle of Harris
Loch Tarbert, Jura, west coast of the island of Jura
West Loch Tarbert, inlet between North and South Harris
East Loch Tarbert also by Harris in the Outer Hebrides
West Loch Tarbert, Crinan Canal, Argyll
East Loch Tarbert, Crinan Canal, Argyll
Glen Tarbert, between Loch Linnhe and Loch Sunart
Tarbert Hill, above West Kilbride
Tarbert Bay, on the Isle of Canna
Loch Tarbert, on the Isle of Jura
East Tarbert Bay and West Tarbert Bay on the Isle of Gigha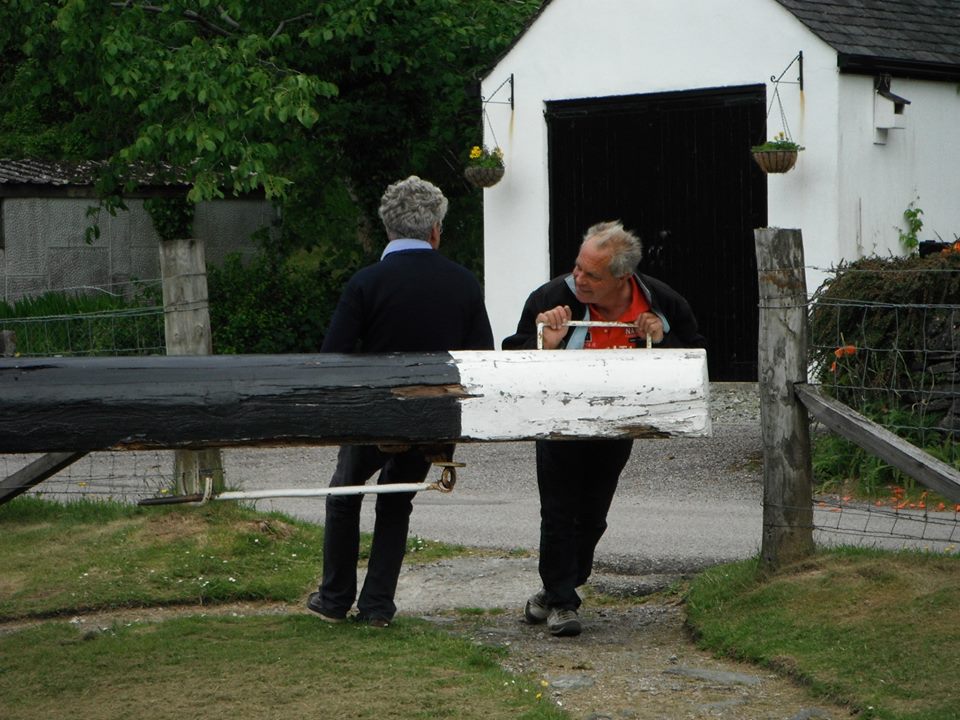 What did we expect when locking into the Canal?
I'm not sure we knew quite what to expect, and there seems more of us than can squeeze in the lock! 'Windflower', 'Vlieter' and 'Syene' wait circling in the outer harbour. Ahead of us, hidden, the first lock gate is closed. There's masts poking up inside but little sign of action. Engines ticking, we circle around outside, thanking the gods for a calm sea. A phonecall to the lock master and a leisurely promise of action in half an hour . . . Finally the lock swings open and we're in suburbia, surrounded by neat houses, gardens, tarmac and locals out walking their dogs. The air changes, it's warm and the smell of cut grass and pine trees replace that of salt and seaweed. Our coastal oilier seem suddenly ridiculous as cows munch where dolphins had played. The scenery is stunningly beautiful. The Crinan Canal meanders for just nine miles through lush green hills. Everything's in a flurry of growth with trees and flowers down the banks, pine trees towering above our masts, bright rhodedendrons against white cottage walls. The technology is old, the power is human, you need a strong cranking arm and plenty of back muscle. The gates are heavy and time goes slowly as we operate the 14 locks and 28 gates. We'll surely be looking forward to a rest getting back once more those winches, warps, halyards and jib sheets.

Ben Collins, Solent Area, OGA member
Slideshow of images supplied by members of the OGA50 Round Britain Challenge fleet, 2013
Why was it built?
Planned in the 18th century by John Rennie and surveyed by James Watt, the intention was to provide safe transit from Ardrishaig on Loch Fyne to Crinan avoiding the 100-mile sea voyage round Kintyre. One of Thomas Telford's projects and funded from London and Glasgow the Canal was completed in 1809. As with many canals throughout Britain, revenue failed to match increasing operational costs. In 1854 the Canal carried 33,000 passengers, 27,000 sheep and 2,000 cattle and by 1906 the income of £6,000 per year was woefully inadequate. However, the Canal was, and continues to be a valuable local amenity with sea locks built in the 1930s to provide access at any state of the tide. Today's 2,000 – 3,000 users are primarily leisure sailors and fishing vessels with the occasional Clyde Puffer, originally designed for Canal use between Glasgow's industrial heartland and the villages and islands of the west coast to deliver coal and return with whisky.