Our cover photo shows 'Letty' in Whitby. She departed Blyth, Northumberland with the OGA60 Round Britain fleet on passage south to the Jubilee Party in Ipswich starting on 3 August.
We enjoyed the NE area OGA Party Port events, despite almost constant rain. There was a very informative guided tour of the club lightship (LV50) which dates from 1879. She is heavily built of wood, with iron strapping to enable her to withstand the worst weather in exposed locations. Her first posting was to the Seven Stones rocks off Lands End. She gave service as a lightship until 1952 when she was sold off and bought by the RNYC as their clubship. She had around 7 crew who did stints of two months on her at a time. Lightships became a practical proposition with the large scale manufacture of heavy chain in the early 1800s, but have now been replaced with modern automated aids to navigation. Later we went to see a local boat building facility, the Blyth Tall Ship project where they are building a large replica Zulu, a type of fishing boat popular about 100 years ago. We were impressed by the quality of the work being done there. They also have the tall ship 'Williams 2' on the quay by the yard. We spent the evening enjoying an entertaining supper on the club lightship with the Gaffers, greatly enlivened by singing sea shanties with plenty of audience participation. Find the lyrics for a favourite on the East Coast Gaffers blog.

Mike Beckett, 'Bonita'
'Lahloo' departed Blyth on Sunday morning, after the enjoyable party weekend heading for Hartlepool and then Bridlington. She's reports ". . . broad reaching in big seas with the best surfing conditions so far. We just fell forwards down the face of a wave in the best CC26 surf ever! It was 11.1 SOG and 9 through water!" On Monday, 24 July, struggling against the strong onshore winds, 'Windbreker', 'Barbarossa', 'Indian Runner', 'Letty' and 'Onward of Ito' also left Blyth. 'Susan J' reported, "Departing Blyth with onshore 25kts of wind pushed 'Windbreker' onto 'Letty'. Skipper Edgar demonstrated motoring against an outside stern spring. It worked the third time, when attached further forward. 'Letty' next? The rest of us are contemplating a second breakfast!" 'Letty' was indeed next to try departing, with help from 'Hilda' to get off the pontoon, with the rest of the fleet taking their second breakfast and staying in port.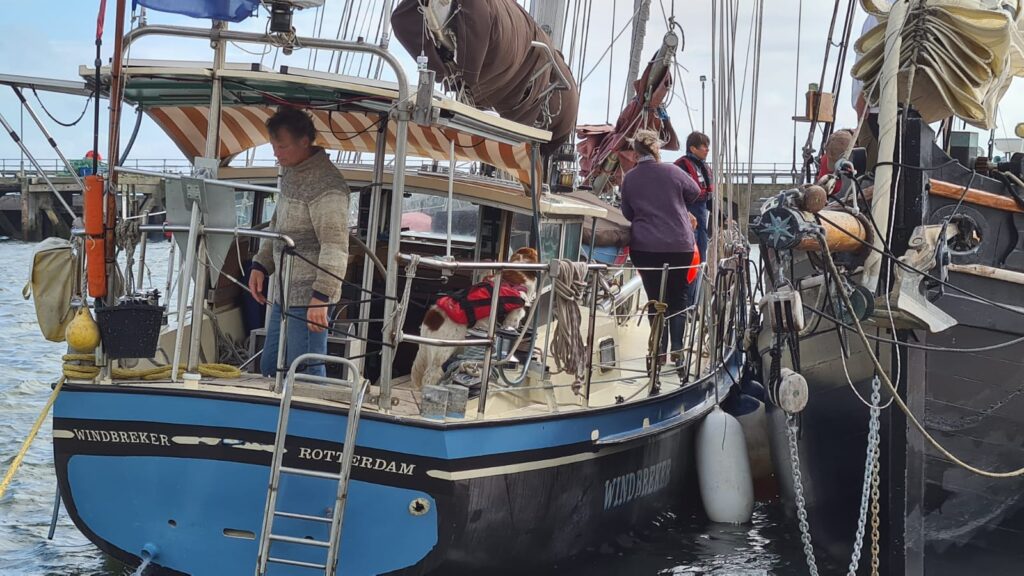 Enjoying the sail, despite somewhat bumpy seas, 'Onward of Ito' spent the night in North Shields on the Fish Quay while 'Letty' sailed on to enjoy fish and chips in Whitby. 'Indian Runner' assisted a 19' Class Mini Globe boat with engine failure to get into Hartlepool Marina. Today, several more of the fleet set sail from Blyth with 'Hilda', 'Recipe', 'Bonita' and 'Susan J' all making passage south. 'Susan J' reports she's "off the mouth of the Tyne with Mike Sullivan at the helm, after a chilly 04:50 departure from a very hospitable RNYC and NE OGA party week end at Port of Blyth. Thank you Des and Anthea and the LV50 hosts. Onwards towards 'the south'.
Looking further south on the tracking map, 'Charlotte Elizabeth' is now continuing her passage to Ipswich, having departed Lowestoft today and 'Swift II' is approaching Cowes, to complete her circumnavigation.