This update for May 2013 from the OGA50 Round Britain Challenge logs finds the fleet scattered from the south coast of England up to Ireland and Wales due to the continuing bad weather conditions. Only three boats decided there was time to visit the Scillies.
'Annabel J' decided there's no time to visit the Scillies and, having rounded Lands End is heading across her 'home waters', as a Bristol pilot cutter, towards Milford Haven from the north Cornwall coast. She arrives in Milford Haven, suffering a broken mast spreader whilst rounding Lands End, but is otherwise unscathed. 'High Barbaree', 'Syene' and 'Bonify' have rounded Lands End, heading for Milford Haven while 'Cine Mara', the Dutch replica Galway hooker, having also left Falmouth is heading west for Cork. 'Leonora III' is in the Helford River, having sailed round from Falmouth. 'Witch', 'Bonify' and 'High Barbaree' have all given up on going to the Scillies and are trying to get round Lands End to cross the Bristol Channel and reach Milford Haven before the forecast northeaster lies set in. 'Toucando' has escaped from Plymouth, sailing and motor-sailing round to Falmouth to enjoy fish and chips at the Harbour Lights washed down with good ale at the Chain Locker.
On 16 May, 2013 we hear eight of the fleet are safely arrived in Milford Haven, some staying in Dale and others moving up to Milford Marina. They'll all be enjoying the next round of parties ashore and time to take a well-earned rest. For English boats 'Bonify', 'Syene', 'High Barbaree', 'Annabel J', 'Toucando' and 'Moonriver', the only member of the fleet sailing solo and Dutch boats 'Windbreker' and 'Vlieter' there's swapping of crews, sharing tales, exchanging photos, catching up with repairs and doing those essential maintenance jobs before setting off again. There will be at least one new boat 'Capraia', joining the fleet and several changes in crew as skippers shape their plans heading for Holyhead next weekend.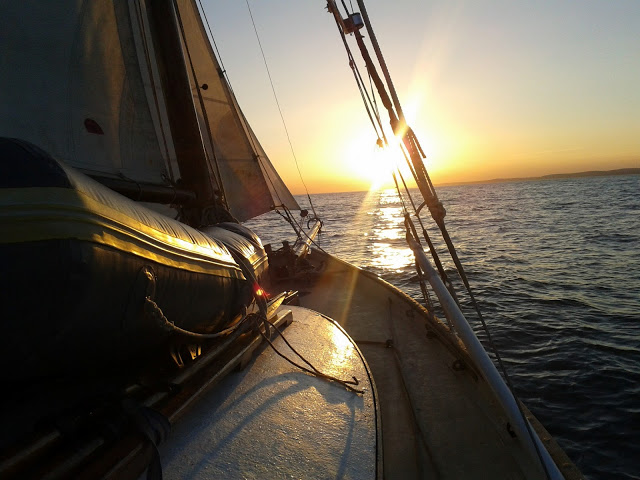 Taking a different track, the Dutch replica Galway hooker, 'Cine Mara' is taking her to the west coast of Ireland, and has now reached Cork. The other boats in the fleet, held up by storms and leaky hulls are moving westwards again. 'Bonita' left Falmouth on Friday, passing Longships Lighthouse, Land's End mid-afternoon, heading for Milford Haven. 'Witch', following her repairs in Falmouth, has reached Newlyn and reports a dry bilge. 'Cygnet of London', staying in the Solent as the storms raged along the Cornish coast, has caught up with the fleet, sailing through the night to meet 'Witch' in Newlyn. They're sailing in company, hoping to round Lands End and make Milford Haven during the weekend.
By 24 May, most of the fleet has managed to escape the stormy shores of the Cornish coast, but are now scattered on both sides of the Irish Sea, stormbound once again. After an excellent welcome in Pembrokeshire, the strong northerlies are making the fleet take to the coastal footpath for leisure walking, rather than continuing up the Welsh coast to Holyhead. Meanwhile, three boats have crossed to Ireland. 'Bonita' sailed to Waterford, arriving on Sunday but is forced to remain there by the persistent northerly and northwesterlies. Two Dutch boats are also in Ireland, 'Cine Mara' in Dungarvan and 'Vlieter' in Dublin.
Having caught up with the fleet, 'Cygnet of London' sailed in company with 'Witch' to round Land's End and sail to Milford Haven, in time for the party hosted by the Dale Yacht Club. After her repairs in Falmouth, we hear that 'Witch' is taking on less water than normal, which is excellent news. 'Toucando' also reached Milford Haven on Friday, enabling the skipper to take a break to sit an exam which involved catching a train to Newport, Gwent and back for the 'academic interlude'.
By 27 May Dutch, East Coast and Solent members of the OGA50 Round Britain Challenge fleet are sailing north at last, after their prolonged stay along the Cornish coasts and Milford Haven, they're welcomed by several new boats from North Wales and the Isle of Man: 'Minstrel', lying in Caernarfon, 'Comrade', a Morecambe Bay prawner from Conwy, 'Master Frank', a Longliner from Peel, 'Petunia' and 'Greensleeves' will be joining the fleet as they cross the Irish Sea for the Irish Bank Holiday Festival in Dublin 31 May – 2 June. The North Wales OGA members made everyone welcome and laid on an excellent party at Holyhead Sailing Club. Three Dutch boats 'Leonora III', 'Raven' and 'Morgaine' were the only members of the fleet to make passage to the Scillies. Departing Saturday they're now sailing north as well to rejoin the fleet.