Three OGA60 boats rounded Lands End and were sailing overnight across the Bristol Channel estuary on Tuesday in beautiful weather conditions. 'Indian Runner', 'Recipe' and 'Susan J' reached the South Wales coast mid-afternoon on Wednesday. 'Susan J' anchored at Dale, intending to explore the offshore islands and river, hoping to make Neyland by Friday. 'Indian Runner' and 'Recipe' arrived into Milford Haven reporting good conditions for the passage and plenty of dolphin dancing under their bowsprits.
The rest of the fleet left Falmouth, Newlyn and St Michael's Mount, where they were berthed or anchored overnight on Tuesday. 'Bonita', 'Moon River', 'Onward of Ito', 'Step Back in Time' and 'Peggy' rounded Lands End on Wednesday morning to sail overnight, arriving into Milford Haven this morning, Thursday 18 May. 'Hilda', 'Lahloo', 'Letty', 'Charlotte Elizabeth' and 'Cygnet of London' spent the night in Padstow. 'Swift II' left Falmouth with new crew to round Lands End on passage to MIlford Haven.
The Bristol Area OGA will be welcoming the fleet into Neyland over the weekend. We hear that local boat 'Molly Cobbler', 19′ gaff cutter based on a traditional Mevagissey Tosher fishing boat, has arrived in Neyland. Skipper Mary is at the start of her 'cross country tour'. She plans to take an alternative route to meet up with the RBC fleet in Ipswich. Her passage plan? Motor across country along the Kennet and Avon Canal, down the Thames, then sail round the coast to meet up with the fleet again in Ipswich, 3 – 6 August.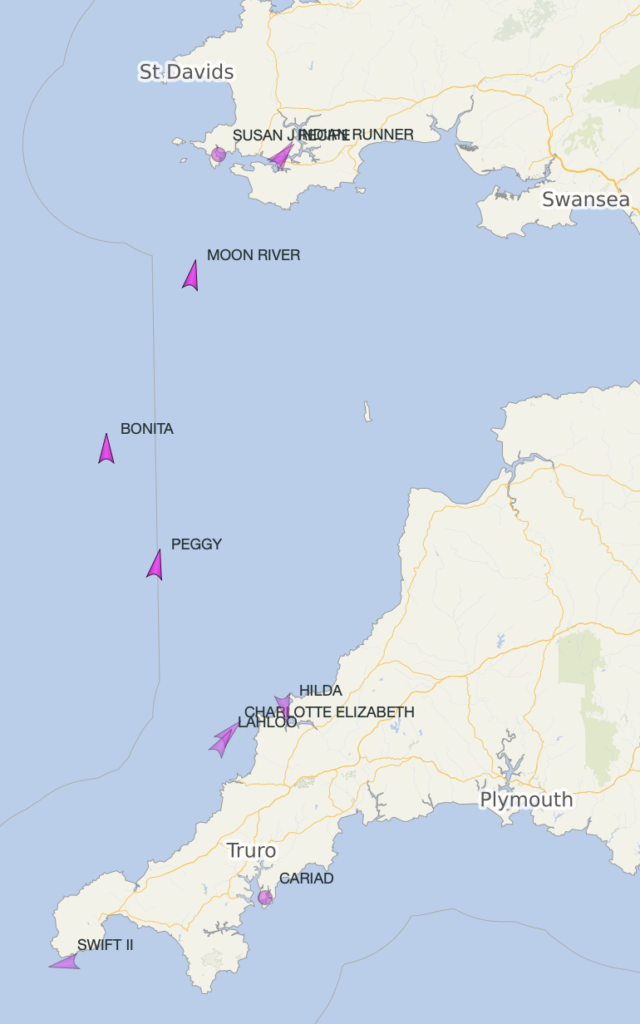 We have spent 3 days in Newlyn waiting for better weather, and yesterday evening we were joined by our friend Jerry who has come over from Canada for the experience of sailing with the Gaffers. There was quite a gathering of gaff rigged boats in Newlyn harbour and some anchored outside and this morning we all left at about 6.30am. Its sunny, the wind is still northerly, but much lighter and may change in direction later.

Mike Beckett, skipper, 'Bonita': 17 May 2023
Sadly, we have heard from Jim, skipper of 'Louisa May' that he has retired from the fleet having suffered engine failure off Dartmouth. 'Mutual Friend', forced to retire ten days ago due to crew injury, has now returned to her home port at Tollesbury.